Summer Fun at Bama Hillel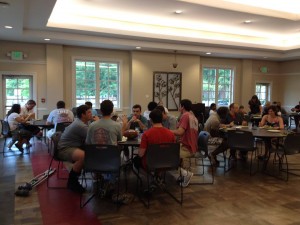 The Bloom Hillel Student Center is open year round, so plan your visit during Bama Bound!  This week, more than 35 students and faculty joined Bama Hillel for a Summer Cookout.
Are you visiting Tuscaloosa this summer or attending Bama Bound?  We would love for you to stop by Hillel and learn more about Jewish campus life at UA.  Contact Lisa Besnoy at Lisa.bamahillel@gmail.com to plan your visit.
Roll Tide!