Congratulations to the 2013 Isa Dorsky Legacy Award Recipients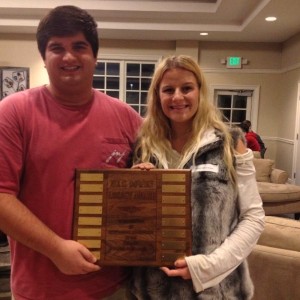 Two students were honored with the Isa Dorsky Legacy Award this December.  The award is presented to students who display an outstanding dedication to Hillel and the Jewish student body at The University of Alabama.
Samantha Silverman (right) served as a student intern for two and a half years and was the Vice President of Public Relations for the Hillel student board for the 2011-2012 academic year.  She graduated magna cum laude from the Culverhouse College of Commerce and Business Administration with a degree in Marketing and a specialization in Sales.  She will be moving to Nashville to start her job with ALDI as a District Manager.
Jordan Ross (left) graduated in December of 2013 with a Bachelor of Arts in Communication and Information Science, majoring in Communications Studies with a minor in Business Management.  His graduation plans include a trip to Israel where he will take part in Career Israel.  Jordan was an active member in Hillel and his fraternity, Zeta Beta Tau.
Both Sammi and Jordan helped to provide a place where all students felt welcome at Bloom Hillel.  They engaged fellow students, served on committees, and advocated for a strong presence of Jewish student life on campus.  We are grateful for their involvement as students and look forward to keeping in touch with these amazing alumni!