UA Soccer to Host Faith and Family Night September 10th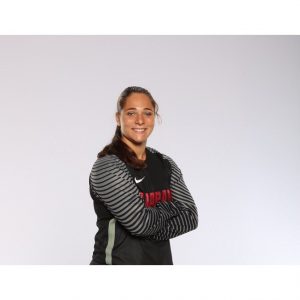 Meet Alex Plavin!
Alex is from Atlanta, Georgia and a Goalkeeper for the Alabama Soccer team. She is working towards a degree in Business Management while maintaining her status as a UA Scholar in the Honors College.
Alex has been playing soccer since since she was 4 years old and began at her local MJCCA (Jewish community center). She then competed for Tophat Soccer Club, Riverwood International Charter High School, and the Georgia state team through the Olympic Development Program (ODP). At Riverwood high school, she currently holds the school record for the lowest goals against average (0.59), highest win percentage, the lowest amount of goals allowed in a single season (13), most shutouts (13), and most wins (14). Individual accolades include being a two-time All-Area First Team member (2013-14), the recipient of the Raider Award in 2014 and the Northside Neighbor Newspaper Athlete of the Week in April 2014. For Tophat SC, she was part of a team that won three-straight state championships (2013-15), won the Disney Showcase three-straight seasons (2011-13), made a semifinals appearance for Region III in 2014, appeared in the USYSA Nationals in 2015 and the ECNL Nationals in 2016!
Alex states " As a goalkeeper, I have the rare opportunity to fill both an offensive and defensive role. My position acts as the beginning phase of the attack as well as the last line of defense.  As a student athlete, I am able to compete at the Division I level, represent a competitive Athletic department, while simultaneously pursuing a college degree. At The University of Alabama, I am blessed with the chance to be a Varsity athlete but also participate in other community organizations such as Bama Hillel and the Al's Pals Mentorship program."
Alabama Soccer just began its fall season under coach Wes Hart and the team recently defeated #4/#6 ranked Florida State at home 1-0 to beat a Top-10 team for the first time in program history. "We are looking forward to having a great year with an excellent freshman class and our returning starters" says Plavin.
The University of Alabama is hosting their Faith and Family night on September 10th at 5:00 pm at the UA Soccer Field.  Please join Bama Hillel as we cheer on Alex and the entire Bama Team!
Roll Tide Roll!