Hillel Connections Highlighted by Southern Jewish Life Magazine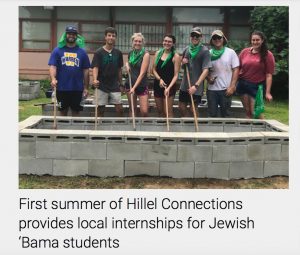 We were so excited to see the Hillel Connections program highlighted in Southern Jewish Life Magazine!
Hillel Connections Summer Internship program is designed to help UA students gain relevant career skills while learning about Birmingham and its professional and cultural opportunities. This past summer brought seven bright and enthusiastic interns to live and work in the "Magic City".  Hillel Connections is now recruiting for the summer of 2019, and plan to accept 8-15 students, who will be housed in a college dorm to work from June 3rd to July 26th. Activities and events during the summer include Shabbat services, trying out new restaurants, You Belong in Birmingham events, sessions with the clergy, community service, baseball games, and other fun events! Hillel Connections is a great opportunity for University of Alabama students to learn valuable career skills with links to possible future employment, and to feel welcomed by the Birmingham community we all know and love.
See the full story at http://www.sjlmag.com/2018/09/first-summer-of-hillel-connections.html