What's Stopping you? – Birthright 2019 is here!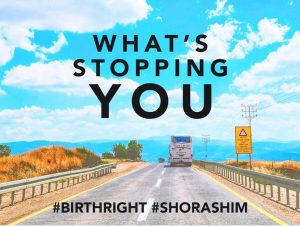 Bama Hillel is planning a University of Alabama Birthright Israel trip this May 12-23, 2019
This trip is a Gift from Birthright Israel.  Don't miss this opportunity of a lifetime!
An information session will be held at Hillel on Sunday January 27th following lox and bagel brunch.
Trip Dates: May 12th – 23rd (flights originate in Atlanta and return the morning of the 23rd)
Trip Organizer: Shorashim
Trip Participants: Eligible University of Alabama students and friends.  Invite your childhood buddies, camp friends, etc to attend this trip with you!
Additional info:
Birthright Israel website: https://www.birthrightisrael.com/countries
Shorashim website: https://www.israelwithisraelis.com/about
If you have any questions e-mail Lisa Besnoy at Lisa.BamaHillel@gmail.com