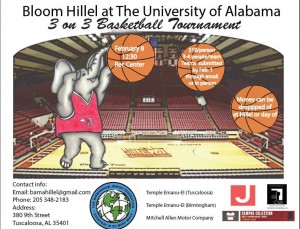 We are so excited to announce that on Sunday, February 8th, at 12:30, Bloom Hillel will be hosting its
first annual 3-on-3 Basketball Tournament! Our event will be held at the Student Recreational
Center. There will be a male bracket and a co-ed bracket along with a
free throw competition for students to come out and show what they've got. Who knows, we could be discovering the next Lebron James!
The entry cost is $10 per person with a 4 person limit to each team. To enter our competition you have to pay $10 per person and a 4 person limit per team. Each team member will receive a tournament t-shirt, and we will be giving prizes to the first and second place teams.
Part of the money we raise will go back into programming costs for Hillel's future events, and the other part of it will be donated to a charity to be announced at a later date.
We would like to take this opportunity to thank our generous sponsors without whom this event would not be possible:
The Birmingham Jewish Federation
Temple Emanu-El (Tuscaloosa)
Temple Emanu-El (Birmingham)
Mitchell Allen Motor Company
Birmingham JCC
Container Marketing Inc.
Campus Collection
If you're interested in signing up to participate, please contact Hillel at bamahillel@gmail.com or 205-348-2183.

Win or lose the tournament is going to be a blast, and we hope to see you there!