Welcome to the first installment of Kelsey's Korner! (by Kelsey Kunstadt)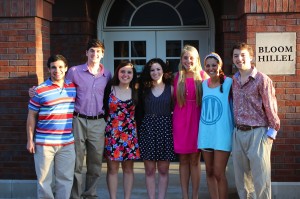 Pictured above is Hillel's previous student board and new board members for 2014-2015.
Last month, Bama Hillel wrapped up our fabulous year with a Fiesta Shabbat Dinner. This dinner was a huge success with over 90 attendees and the election of the new Hillel student board for 2014-2015. Hillel has really seen a growth in numbers this year, exemplified by the amount of people who ran during the elections. This year's votes were tallied electronically. For the first time ever, students were able to text message their votes to an online website.
Other end-of-the-year highlights included our JJI (Just Jew It) event where special guests, Bobbie and Don Siegal, came to speak following a documentary on the integration of  The University of Alabama campus. The annual Passover Seder was another great success. Special thanks to Lisa Besnoy for all of her hard work and the Hillel interns for making this event possible.
"I'm so excited about this new year! The new board is already underway creating new events for the upcoming school calendar, and it looks like it is going to be an incredible year," said newly elected President Risa Hayet. "I couldn't have asked for a more enthusiastic board, and I'm really looking forward to leading this new board and Hillel."
Results of the election include: President: Risa Hayet, Executive Vice-President: Matthew Filderman, Secretary: Elie Allen, Treasure: Joe Bloomston, Membership Vice- President: Kerri Fogel, Programming Vice-President: Stephanie Arkin, and Public Relations Vice-President: Kelsey Kunstadt. Stay tuned for more news on Hillel's Happenings and have a wonderful and safe summer!
Kelsey Kunstadt
VP of Public Relations