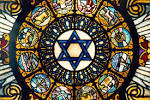 The High Holidays are just around the corner and Bloom Hillel invite all students to join us for the holidays.  We provide meals for students on Erev Rosh Hashanah, Erev Yom Kippur, and Break the Fast (hosted by the Temple Emanu-El Sisterhood.  The Temple is open for all those who wish to join them in prayer.
Please reserve your spot at our High Holiday table today!  Click on the link below and let us know when you will be join us.
All holiday meals are free of charge for students.  If you would like to make a donation to help support our holiday fund or any other Hillel activity, please do so my clicking on Donate Now.
Roll Tide and L'Shana Tovah!