Frequently Asked Questions
Is there a Hillel facility at Alabama?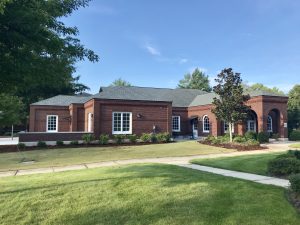 Yes! We have a brand new building which was dedicated in April, 2011. It is in the heart of campus at 380 9th Street.
How long has there been a Hillel at UA?
Founded at Alabama in 1934, Hillel has been a welcoming home for Jewish students,
their friends and those interested in meeting new people ever since. Our students
come from all over and are leaders in a wide variety of organizations across
campus. We welcome new members to Hillel throughout the year and are delighted
that our "family" continues to grow. If you are planning a visit to The University of
Alabama and want to visit Hillel as well as organize a campus tour, please contact us at bamahillel@gmail.com. We will be happy to help you with this!
How many Jewish students are there on campus?
We estimate over 1000 Jewish students at Alabama, and we are growing
every year!
How is Hillel connected to the University community?
Bama Hillel is a 501(c3) non-profit organization and is the Jewish Student Center. Hillel
is integrated into the University of Alabama community through its dynamic programs,
co-sponsored events, and the involvement of our active students in many other
university groups. The University is very supportive of Hillel and its role on campus and
works with Hillel to provide a welcoming atmosphere for Jewish students, faculty, and
families.
Can prospective students visit Alabama and connect
with a Jewish student?
You bet! The best way to get a sense of the Alabama experience is to visit
our incredible campus. Hillel can help arrange for prospective students to connect with other Jewish students on campus. To arrange a tour and information session with Alabama's
admissions office, click here.  Prospective students who wish to visit Hillel, speak with Jewish students and/or attend a Hillel program should email us at bamahillel@gmail.com.
How do students get involved with Hillel? Are there membership fees?
Any student on campus can participate in Hillel sponsored events. There are no
membership fees, and students are encouraged to plan and/or attend as many
programs and activities as they wish.
How can I support Bama Hillel?
Bama Hillel relies on the generous help of parents and donors to support our on-going
programming and special initiatives. To learn about more giving opportunities to Bama
Hillel, please click here.
How are Shabbat and holidays celebrated on campus?
Hillel hosts Shabbat dinner each Friday night. The local community also welcomes our students
to join them for Shabbat services and holiday services, and Hillel hosts dinner in conjunction with all Jewish
holidays.
We Can Help
If your son or daughter was very involved in youth group/synagogue/you-name-it in high
school but hasn't gotten involved with us yet, please let us know who they are – and
we'll take care of connecting them. We have so many compelling social, networking,
spiritual and recreational opportunities that they are sure to find something meaningful
and relevant to them.
Contact us at 205-348-2183 or bamahillel@gmail.com.