Homecoming with Mississippi State Hillel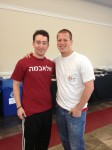 Thank you to the Hillel at Mississippi State for joining Bama Hillel for Homecoming weekend.  There were some fierce rivalries (and perhaps a blow out game 😉 ), but camaraderie prevailed at Hillel!
On the left, MS State student leader, Daniel Snyder (left) and Bama Hillel student board president, Bryan Kellert (right) pose to display their proudly swapped Hillel t-shirts.  Hail State and Roll Tide!