Register for Bama Hillel's Fall 2012 Recruitment Weekend! – November 9-11, 2012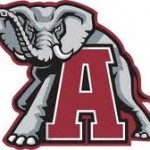 Roll Tide Roll!  Bama Hillel is excited to announce its Fall 2012 Recruitment Weekend, November 9-11, 2012!
All Junior and Senior high school students who are interested in experiencing Jewish life at The University of Alabama are welcome to attend.  Check in will begin at 2:00 pm, on Friday, November 9th, followed by a campus tour.  All students will be assigned a "host" student with whom they will reside for the weekend.  Parents are welcome to join their students at Hillel for a concluding lox and bagel brunch at 10:00 am on Sunday, November 11th.
All of Click on this Registration link  to access all of the registration material.
Thank you so much for your time and assistance with our efforts.  We are all very excited about this opportunity to engage future students and provide a Jewish -centered college experience.
If you have any questions, please feel free to email me at lisa.bamahillel@gmail.com or contact me by phone (205) 348-2183 (office) or (205) 523-4646(cell).