The Season of Sukkot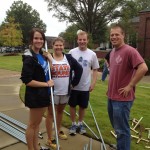 Hillel students gathered together to enjoy Sukkot and work as part of the Jewish community, building the sukkah in the courtyard connecting the Bloom Hillel Student Center and Temple Emanu- El.  Students, faculty, and Jewish community members worked side by side (in the rain) to build the joint Sukkah.  Upon completion, Temple, Emanu-El Sunday School participants were able to experience shaking the lulav and etrog.
Before "bringin' down the house," Hillel students enjoy each others company with a pizza dinner in the sukkah.