Bama Hillel's Annual Bowling Night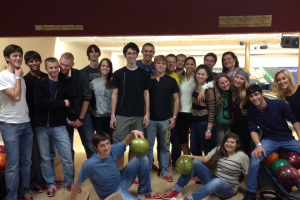 Tuesday, November 13, 2012
Bama Hillel had a great time at the Tuscaloosa Bama Bowl this week as they gathered for a late night bowling party.
Congratulations to high score bowler, Bryan Kellert (172) and Adam Birns in 2nd place with a very respectable 153.
As the semester draws to a close, be sure to check out our final fall events such as the Farewell Shabbat Dinner on November 30th and Chanukah celebration on December 8th!