Elections for the 2017-2018 Executive Board take place on Friday, March 24th at 5:30 pm.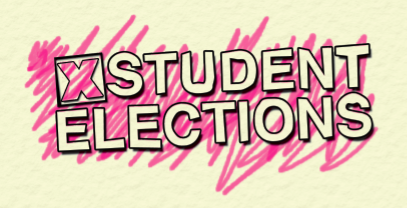 We are excited to announce the candidates for the 2017-2018 Executive Board!
Elections for the 2017-2018 Executive Board (President, Vice President, Secretary, and Treasurer) will take place on Friday, March 24th at 5:30 pm.  
Office of President
Benjamin Greenberg ('19) – I want to be president, so I can bring Hillel further in its already impressive climb to greatness. Hillel has been becoming more productive and engaging, and all I want to do is my great ideas, excitement, and drive to make this go even further. I have served as secretary for the past year as well as an intern, so I know the ins and outs of Hillel, have great relationships with the majority of the members and Lisa, and know what it will take to keep this Hillel moving in the right direction. I have no doubt in my mind that I can create new programming, gain new members, and leave a lasting effect on the students here. I want nothing more than to make Hillel one of the strongest in the country.
Courtney Winston ('18) – I have the qualifications of a strong leader. Serving on the Student Board my sophomore year as Membership Vice President, and junior year as Executive Vice President has helped me become more involved in Hillel. Since freshman year, I have wanted to be an active member of Hillel, hoping that during my senior year, I would lead the student board as President. I served as President of my Temple Youth Group in NFTY during my senior year of high school. I helped get the youth group out of the hole it was in by new programing ideas, merchandise, and strong leadership skills. Four years later, I am an even stronger leader. Though I am studying to go to medical school, Hillel is one of my top priorities. I want to help Hillel launch into its new phase of growth so that Hillel will have a legacy and tradition.
Office of Executive Vice President
Bianca Levy ('18) –  I am running for a Hillel Board Position because I strongly believe I have the passion, skills, and knowledge to do the job to the best of its abilities. I currently serve on the International Hillel Student Cabinet where I am fortunate enough to have a wide variety of resources and people available to me and in turn the board as well as the entire Hillel population. I have also served on Bama Hillel board so I am familiar with the ins and outs of what it means to be on board. We have untapped potential and I think I can play a role in helping to unlock some of that potential given the chance.
Executive Board Treasurer
 Riley Edwards ('19) – I have been the treasurer for the previous year, and I helped procure over $4500 of funding, with more to come by the end of the year. Moving on to next year, I hope to find funds to expand the Hillel further and make it an even better experience. 
Executive Board Secretary
Haley Bardos ('20) – I am extremely qualified for the position and passionate about the future of Hillel and its members. Formerly, I served as mazkirah (secretary) for my BBYO chapter, sending out weekly emails updating the members on upcoming events and making sure members felt engaged in what was going on. In tenth grade, I acted as corresponding secretary for Thespian Troupe #912 where I took minutes at every meeting and had members review the minutes from the previous meeting to see if any adaptations needed to occur. Finally, in twelfth grade I was my high school's Student Government Association Secretary taking upon various tasks and helping in any way my school and organization needed me to. I love being a part of Hillel and I think I would be a great asset to its future board.
Jeremy Berglass ('20) – I want run for a position because I feel like I am the best candidate to help take Hillel to new heights. Each year Hillel has seen growth and with my leadership and determination, I can take advantage of this trend.
Lauren Feinstein ('18) – I love being able to be the voice of the members. When you join Hillel sometimes its a scary thing to speak up on events that you want. As a board member I want to be able to be that voice between the board and the members. I love being at Hillel and I want everyone to be able to call Hillel their second home.
The Membership, Programming, and Public Relations/Media positions will be appointed based on candidates' level of interest and expertise by members of the old and newly elected board, director, and board of trustees.
 Hillel Members interested in student board leadership positions include:
 Membership
Leslie Bashuk ('20)
Paulina Bullard ('20)
Noah Hartman ('20)
Hannah Wickham ('20)
 Programming
Paulina Bullard ('20)
Jeremy Berglass ('20)
Public Relations
Samantha Berger ('20)
Paulina Bullard ('20)
Daniel Kensella ('20)