Celebrate Thanksgiving at Bloom Hillel!
Staying in town over Thanksgiving?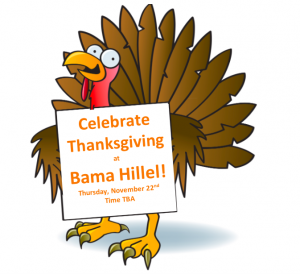 Celebrate at Bama Hillel!
We know our students come from across the nation and may not be able to make it home for the Thanksgiving holiday (and back here in time for the Iron Bowl).
Just a few takers? The Besnoy Family will open their home to students.
Full house? We will gather at Hillel!
This will be a casual day of fun, football, and our campus family! Roll Tide!