Registration is OPEN! Apply Now!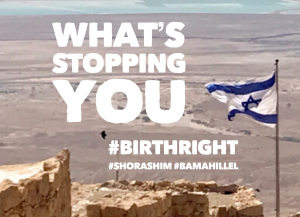 May 12-23, 2019
LIMITED SPOTS AVAILABLE
THIS TRIP IS A GIFT FROM BIRTHRIGHT ISRAEL.
Don't miss this opportunity of a lifetime!
More info:
Registration is open now so LOG ON and complete your registration and deposit.
Trip Dates: May 12th – 23rd (flights originate in Atlanta and return the morning of the 23rd)
Trip Organizer: Shorashim
Trip Participants: Eligible University of Alabama students and friends.  Invite your childhood buddies, camp friends, etc to attend this trip with you!
Additional info:
Birthright Israel website: https://www.birthrightisrael.com/countries
Shorashim website: https://www.israelwithisraelis.com/about
If you have any questions e-mail Lisa Besnoy at Lisa.BamaHillel@gmail.com